Vacation, Evacuation, Relocation
We just got back from our family vacation that didn't exactly turn out how we thought it would. Ultimately this story has a happy ending but it was a windy road to our ultimate destination. Basically, 48 hours after we got to Hilton Head we had to evacuate under a mandatory order from the SC governor. Knowing I wouldn't sleep a wink if we stayed until the next day and freaking out about getting stuck in traffic with a two-year-old, we packed up and left within two hours of the order. It's worth mentioning that the governor rescinded the mandatory order for HHI 45 minutes before the deadline at noon the next day. But by that point we had already left and relocated to Lake Oconee which also happens to be one of my favorite places ever.
Part One: Hilton Head
During our 48-hour whirlwind beach trip we stayed at the Grande Ocean Marriott resort. We stayed there when I was growing up and it's just too awesome to ever want to stay anywhere else, particularly now that we have Harlow. It's so kid-friendly with tons of amenities right there on the property. Maybe best of all, you don't have to pack your entire life into your car or a wagon to try and go to the beach with a small child. Just walk right out onto the beach from your unit. If you need something, you can get it and be back in five minutes. That's definitely my speed in this season of life.
Amenities include: four pools, countless hot tubs, kiddie pools, fountains, a pool bar with TVs, bocce courts, shuffleboard, on-site bike rentals, hammocks for napping, an indoor pool for rainy days, a marketplace for small groceries, coffee bar....I mean, the list goes on. And it's so pretty. There's no bad unit or view in the whole place.
We got two good beach days with Harlow and she was loving every second! She was a little timid about the ocean in the beginning; all it took was one well-timed Moana reference and she was in full mermaid mode haha!
I slept terribly both nights but the silver lining was catching the sunrise and enjoying the beautiful skies in the early AM. Plus the empty beaches were nice, too. One morning I went down by myself to do some light pilates and start my new book. Funny how the title plays off of "when life hands you lemons" which would be so apropos to our day as we'd later find out.
Our close friends who own a home in Lake Oconee so graciously let us relocate there after we were evacuated. Yes, it sucked. Yes, it was stressful and a hard pill to swallow knowing we probably wouldn't get our money back. HOWEVER we knew that our inconvenience was nothing compared to what our family and friends were facing back home in eastern North Carolina. For days we watched the storm loom closer and, as I write this, we know the destruction it left in its wake. It's heart breaking and terrifying. They need our prayers and our help!!!
For anyone who wants to donate to Hurricane Florence relief efforts, click here to visit the Red Cross's disaster relief website.
Here is a very handy list of several places across the state of North Carolina --- including in Asheville -- where you can drop off supplies. There's also a list of items they desperately need if you are looking for suggestions on what to bring.
Part Two: Lake Oconee
Our friends' home is on Reynolds Plantation so we got to enjoy the amazing salt water pool that's designed for kids. Harlow loved riding in and "driving" the golf carts. We ate dinner at Gaby's at the Ritz and saw the most beautiful rainbow!
The next day we took the boat out for a family cruise. We drove around to look at all the houses and got out to swim by the sand bar a couple times. My brother queued up a solid classic rock radio station on Apple Music and Harlow loved pretending to play the guitar and the air drums.
I wore this scalloped one-piece swimsuit with my go-to kimono. This bathing suit cost just $23 and comes in four colors. I'm wearing a medium. The kimono doubles as a cover-up but I'll also be wearing it into fall with jeans and ankle booties.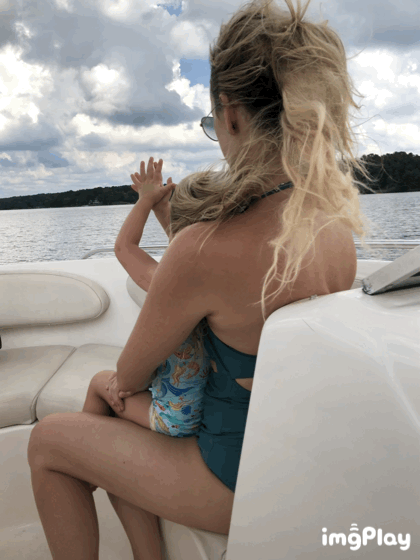 Our last day we fit it all in: pool, boat, one last trip to Gaby's, and dinner at Silver Moon. On Fridays and Saturdays they have fresh raw oysters and fried shrimp which were SOOOOO good. Oh, and the peanut butter pie will knock your socks off. They've also got the best wine list for the best prices, especially if you're a chardonnay drinker like me ;)
All in all, we wound up having a great time after a weird hiccup. It was also strange coming home to Asheville just as the hurricane's rain and wind were getting here. Luckily everything turned out okay for us at home aside from a brief power outage. Now our focus must turn east to helping all the people so desperately in need.
On a lighter note, I will be linking several of my outfits (some not seen in this post) from our trip on Friday. It'll be a dedicated post on where to find cute pieces for a steal plus some shopping tips on how to get the most bang for your buck.
Thanks for coming by the blog and being so patient while I took last week off to enjoy our vacation.
Have a wonderful day!
xxBrooke